Show Details
Stalls

Pricing
Reserved before September 1: $75.00
Reserved after September 1: $90.00

Arrivals

Horses may arrive at C Bar C Expo Center after 8 am on Friday, September 11. No early arrivals.
Bedding & Feed

Each stall comes with a complimentary "0" bags. Advanced bedding and feed reservations must be made through C Bar C Expo Center. Reserve or get pricing by contacting (765) 720-3351 or This email address is being protected from spambots. You need JavaScript enabled to view it..

Terms
Stalling preference cannot be guaranteed. Priority stalling will be given to sponsors; by level and date sponsorship payment was received. Stalls will be pre-assigned and must be reserved and paid before assignment. Stall reservations will not be considered complete until payment has been received, and will be subject to the appropriate fees based on the date payment is received.
Paperwork

All horses are required to have a negative EIA test within the past 12 months and an original Health Certificate within 30 days of the show. Present paperwork at the stall office upon arrival.
Entries

Qualification
Exhibitors must qualify in at least one class in order to enter. However, exhibitors are not limited to only competing in classes in which they qualify. Once the one-class requirement is met, exhibitors may enter classes for which they are not qualified with an additional $15.00 qualification fee. See pricing chart for details (right).

Late Entries

Entry fees paid after September 1 will incur an additional $15.00 increase. See pricing chart for details (right).
Open Classes

The 2020 NOHSA World Championship show will be offering four "Open $250 Added" classes. The entry fee is $30.00 and is not subject to price increases. This class is open to all age groups, and is exempt from any qualification requirements.
Post Entries

Post entries must be made a minimum of two classes before the class (not including lead line).

Pricing
All classes (not including "Open $250 Added" or lead line classes) require a $30.00 entry fee. Additional charges for late entries or unqualified riders may be applied. See qualification and entry information for details (left).
| | Qualified | Not Qualified * |
| --- | --- | --- |
| Paid by September 1 | $30.00 | $45.00 |
| Paid after September 1 | $45.00 | $60.00 |
* Must be qualified in at least one other class to enter
Membership

All exhibitors must hold a current NOHSA membership to participate.
Lead Line

Lead line exhibitors are exempt from entry fees and all exhibitors will receive an award.
Awards

Trophies

Trophies will be awarded to first place in all classes. Does not include lead line or "Open $250 Added" classes.

Prizes

Prizes & ribbons will be awarded through sixth place for all classes. Does not include lead line or "Open $250 Added" classes.

High Point

High point coolers will be awarded to high point Small Fry, 13 & Under, 14-18, and 19 & Over divisions. High point scores will be calculated following the conclusion of the last class.
Lead Line

All lead line exhibitors are to receive an award.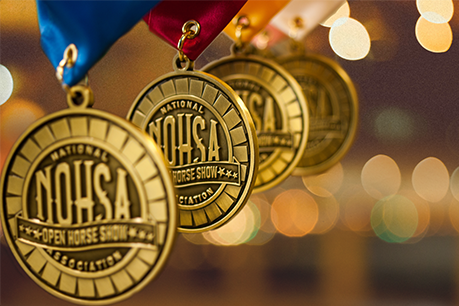 C Bar C Expo Center
We are so excited to be hosting our first annual World Championship Show at the beautiful and centrally-located C Bar C Expo Center in Cloverdale, IN.

Carl & Cindy Harlan

Owners of C Bar C Arena
"C Bar C Expo Center, owned by Carl and Cindy Harlan of Waynetown, Indiana, is quickly becoming Indiana's number 1 choice for equine and livestock shows. C Bar C is known for its friendly staff, great homemade food, and clean facility. The entire barn is cleaned and sanitized before every show to help promote the health of the horses and other livestock that attend our events. In 2019 C Bar C went solar and is now run completely from our solar field that sits behind the Arena. Setting this facility up for generations to come."

Lodging
Camping
Onsite camping is available through C Bar C Expo Center. Both 30 amp and 50 amp camping hookups are available on a first-come, first-serve basis. Camping is $30/night.

Reservations must be made directly with C Bar C Expo Center by contacting (765) 720-3351 or This email address is being protected from spambots. You need JavaScript enabled to view it..
Bedding & Feed
Advanced bedding and feed reservations must be made through C Bar C Expo Center. Reserve or get pricing by contacting (765) 720-3351 or This email address is being protected from spambots. You need JavaScript enabled to view it..